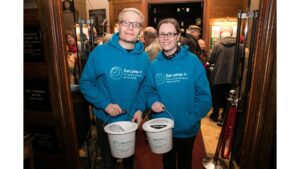 Help raise vital funds and get people talking by having a collection box in your local area.
A fantastic way to help the sarcoma community is to have a collection box. Not only will get you get people talking about sarcoma, you will also raise vital funds.
What you can expect to be doing:
Looking after collection tins in your local community. This could be at a location you own or by asking locations such as pubs, corner shops etc., to place a collection box on their premises.
Regularly check on collection boxes, liaising with contacts at collection box locations to ensure boxes are secure and emptied.
Count funds and donate to Sarcoma UK.
Keep in frequent contact with Sarcoma UK's team about location of boxes, when funds are being sent in and any changes in circumstances.
This is a long-term role, but you will be able to choose box collection times at your convenience.
Are you?
Committed
Trustworthy
Organised
Imaginative
If you are, then you would make a fantastic Sarcoma UK Collection Box Coordinator! Please let us know by filling out our form.