Roger lives in Shropshire with his wife, Sheelagh. They have three daughters and five grandsons.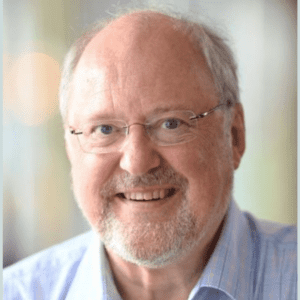 Since being diagnosed with a soft tissue sarcoma in 1999, Roger has undergone ten operations, chemotherapy and radiotherapy, including a lower leg amputation in 2007 and two thoracic metastectomy operations in 2013.
Three years after his diagnosis, Roger and Sheelagh started work on what would become Sarcoma UK. Initially a hub of sarcoma information, the increasing number of patients and carers becoming involved meant it grew to provide a wider range of services. This included helping to start the British Sarcoma Group (BSG), the educational charity of the specialist doctors, and Sarcoma Patients Euronet (SPAEN) the worldwide association of sarcoma patient groups. In 2010 Sarcoma UK was relaunched with its base in London.
Roger's own journey has involved working as a patient representative across cancer. He had the privilege of working with Professor Sir Mike Richards, the former National Cancer Director, as a member of his Advisory Board for five years. Roger has a special interest in research, has been a member of the NCRI Board and chaired the national patient group in research. He has been active with NICE developing guidance for treatment of sarcoma.
Roger continues to work as a patient advocate and believes that the more we can empower patients to speak out, the better we can make the landscape for all patients. He works with a range of organisations and academic research groups in the UK and Europe. Among them are:
Member of the National Cancer Research Institute (NCRI) Sarcoma Studies Group (CSG)
Member of the NCRI Consumer Forum
Honorary President of Sarcoma Patients Euronet (SPAEN)
Chair of the EORTC Patient Panel
Faculty member of the Methods in Cancer Clinical Research Workshop (MCCR)
He is associated with a number of clinical studies and advisory boards.
Prior to being diagnosed with sarcoma in 1999, Roger worked as a journalist and consultant in the competitive TV and telecommunications industry. Earlier in his career he worked in production for BBC TV (1964 to 1980) and as an independent producer (1980 to 1990).
Roger received a CBE in the New Year Honours list in January 2011 for services to healthcare. He also has honorary doctorates from the Universities of Sheffield and Lancaster. He was elected a Member of Cancer Research UK in 2015. In 2019 Sarcoma Patients Euronet gave him a Lifetime Achievement Award.
Every year Sarcoma UK awards one research project in recognition of Roger's contribution to the charity.